£180K Lottery Win For Neighbours In Embo
20th January 2020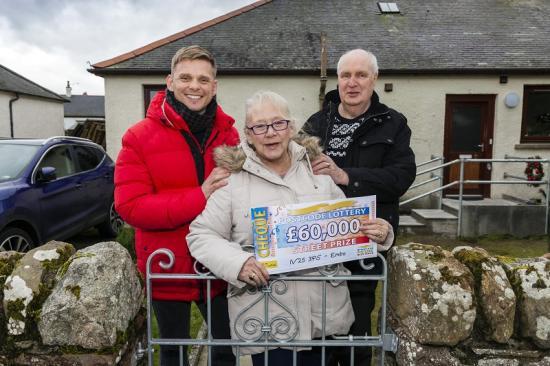 The new year is off to a winning start for four people in Embo who are celebrating landing a share of £180,000 after their postcode, IV25 3PS, was announced as a winner with People's Postcode Lottery on Saturday 18th January 2020.

Two of the Gate Street neighbours picked up cheques for £30,000 each, while the others - who play with two tickets - doubled their prize and bagged a bounty of £60,000 each.

Sixty-six-year-old Linda Holden was one of the lucky double ticket holders. She said: "I'm not used to winning, I usually get the booby prize so this is a brilliant surprise - I couldn't have asked for anything better than two big beautiful cheques for £30,000 each."

Linda was joined by her husband John and Gnasher, her pet Schnauzer, when she got the knock on her door.

Linda said the win couldn't have come at a better time: "We're looking to move and have been looking at properties so this has just upped the ante for us and means we can look at something that little bit better now. This means absolutely everything to us."

Embo is twinned with Kaunakakai in Hawaii but when asked if they'd be splashing out on a holiday to the exotic island, John joked that he fancied getting some thermal underwear instead. He said: "During the summer months Embo is gorgeous and with the sea and the way the waves come in it makes you feel like you're abroad, but maybe not so much in the winter. I'm still feeling on top of the world at the moment!"

As an animal lover, one of the reasons Linda signed up to play was because of the charities that are supported by players of People's Postcode Lottery, including her favourite charity. She commented: "Dogs Trust is my favourite charity and that's why I joined because of the support that goes to them. It's not just me that's won but the charities win too."

In Embo to present Linda with her prize was Jeff Brazier, a People's Postcode Lottery ambassador. He said: "January can be a difficult month as all the excitement of the festive period dies down but what better way is there to beat the blues than by finding out you've won the lottery!

"It was a pleasure to meet Linda, John and Gnasher and I wish them well with their house hunting. I couldn't be any more pleased for her and our other winners in Embo - congratulations all!"

The remaining winners couldn't be there to collect their cheques but the money will be paid into their bank accounts.

A minimum of 32% of ticket sales goes directly to charities and players of People's Postcode Lottery have helped raise more than £500 million to date for good causes across Great Britain and internationally.

The draw was promoted on behalf of Linda's favourite charity Dogs Trust, which has received more than £12 million in support from players to help care for and rehome dogs all around the UK.

Local charities win too. Merkinch Partnership is one good cause close to the winner that players have helped support. Last year it was awarded £9,240 to help young people aged 14-18 who are at risk of social isolation to achieve qualifications and improve their confidence.

For more information on People's Postcode Lottery, please visit www.postcodelottery.co.uk or Facebook and Twitter.

PHOTO
Jeff Brazier presents the cheque to winner Linda Holden with husband John.