LABOUR CANDIDATE FOLLOWS NORTH COAST 500 ON THE CAMPAIGN TRAIL
19th March 2015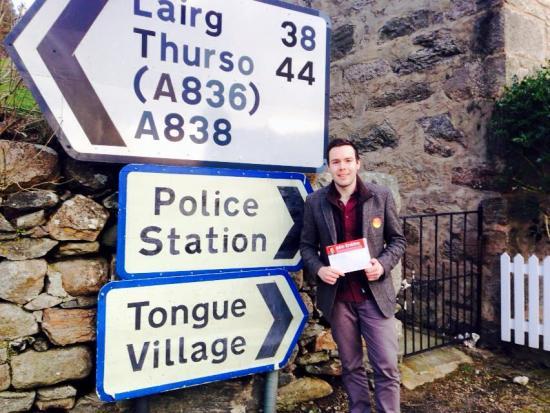 Last week John Erskine, Scottish Labour candidate for the upcoming general election, followed the North Coast 500 as part of his election campaign. By following the North Highland Initiative's latest tourism pull that showcases what the North Highlands has to offer.

Mr Erskine travelled along the west coast of the constituency on his way up to Thurso. Along the way he stopped in a number of the villages on the route including Lochinver, Scourie, Durness, Tongue and Bettyhill to talk with local people about his and Scottish Labour's plan for Scotland. Mr Erskine also took the opportunity to meet with a couple of local businesses to discuss the challenges they face in the area as well as what advantages promoting the North Coast 500 as a key tourist route can bring.

Mr Erskine said:"The North Coast 500 is a spectacular route. The route takes in some of Scotland's best natural sights such as Suilven and Smoo Cave. These sights alone would be enough to attract tourists to the route, and there are excellent tourist attractions along the route as well such Ardvreck Castle and the Craft Village in Durness. I did the route with a few members of my campaign team who had never been on the route before and by the end of it, they could not believe they had waited so long to do it. In fact they are planning a longer journey again this summer. This is exactly kind of enthusiasm we need to generate to attract tourists to the remote Highlands in North West Sutherland and Caithness. "

"If elected in May, I will work alongside tourist organisations and local businesses to promote this route, as well as the constituency as a prime area for tourists from both home and abroad to visit. As the route develops as proven attraction, I believe we should improve the route further by improving the roads on section of it."