Links House announces major expansion in Dornoch
11th May 2015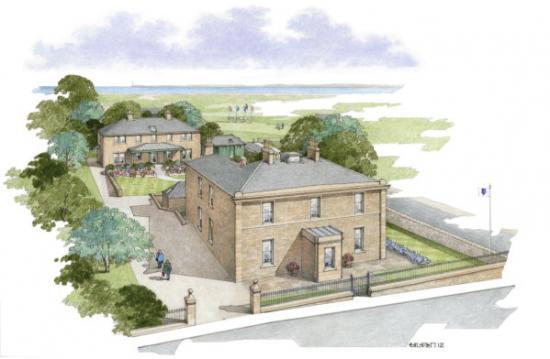 A Scottish luxury five-star hotel located just 100 metres from one of the world's top golf courses is undertaking a major expansion.

Links House at Royal Dornoch, the award winning country house hotel adjacent to the 1st tee at Royal Dornoch Golf Club, is undertaking a six-bedroom addition, set to open in spring 2017.

The additional rooms will be located within an adjacent property historically known as Glenshiel. The Victorian building perfectly complements the current Georgian Links House.

Economic development agency Highlands and Islands Enterprise (HIE) has provided a £600,000 grant in support of the project, which will make a significant contribution towards achieving the ambitions of the Dornoch Masterplan, which was launched last year.

Links House proprietors, Todd and Liz Warnock stated: "We have been tremendously blessed by the reception the tourism market has given Links House at Royal Dornoch and frankly need additional rooms to meet visitor demand.

"Further, Links House is participating in a growing global excitement for the extraordinary beauty of the Scottish Highlands, the Parish of Dornoch and of our sacred links, Royal Dornoch Golf Club."

Royal Dornoch is currently ranked #1 in Scotland and #6 in the world according to Golf Digest magazine. Similarly, the town of Dornoch has recently launched a vibrant marketing campaign around the theme DoDornoch; www.visitdornoch.com/do

HIE Chief Executive Alex Paterson said: "We are tremendously excited about the vision Todd and Liz Warnock have brought to Links House at Royal Dornoch and the Highlands.

"Links House Hotel is already a very significant contributor to the local economy of Dornoch and South East Sutherland. This expansion project by the owners is extremely welcome and it will make a considerable impact on the visitor experience in the area.

"Their investments are perfectly consistent with the 2014 Dornoch Masterplan which the town developed in conjunction with HIE, ensuring that the benefits of increased trade at Links House Hotel will be maximised in the local community and as such we are pleased to provide both financial and strategic support."

Designed by renowned Highland architects James Maxwell & Company who oversaw Links House, the new building will resemble a stately manor home built circa 1860. GlenShiel will include five expansive suites, all en-suite, a luxury one bedroom master suite and a large bespoke pine-panelled library all with striking views of the Dornoch Firth.

Glenshiel's interiors will be developed in conjunction with Helen Lyon Interiors in keeping with the bespoke approach so well received at Links House. The grounds of Glenshiel will consist of bespoke traditional stone walls, beautiful gardens, a Sporting Bothy (golf/angling drystore), outside fire pit, and a fun boules court in the front yard.

Finally, expanding the Highland theme of Links House, the six new suites will be named after six Highland sea lochs historically known for exceptional angling and walking.

According to VisitScotland figures, golf tourism is worth around £220m per year to the Scottish economy and directly supports over 4,400 Scottish jobs. Around 12,800 visitor rounds were played at Royal Dornoch Golf Club in 2013/14.
Related Businesses