Scottish Rural Businesses Who Go Digital Could Add £2.5bn To Scotlands Economy Says New Report
12th March 2018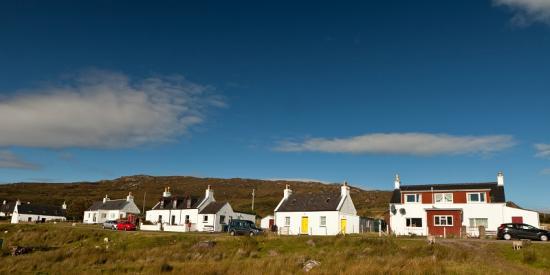 Annual business turnover in rural areas could grow by at least £1.44 billion across Scotland, with rural microbusiness and small-sized business seeing the greatest returns.

Unlocking the digital potential of rural areas in Scotland could add between £1.2bn and £2.5bn annually in Gross Value Added (GVA) to Scotland's rural economy and at least £1.44bn to rural business turnover, according to a new report commissioned by Amazon and published today by Scotland's Rural College (SRUC) and Rural England. The full report is available here*.

"Over the past 20 years, we've seen opportunities for rural entrepreneurs transformed through e-commerce, better delivery services and growing access to fast broadband. But as today's report shows, there's much further to go before anyone can say the rural-urban divide has closed," said Doug Gurr, UK Country Manager, Amazon. "Embracing digital technology not only benefits the economy; it also allows rural communities to combine great quality of life with access to global opportunities. We are working to play our part in helping achieve the report's ambitions through programmes such as Amazon Academy events and webinars, where last year we helped hundreds of rural businesses learn how to go digital."

Greater adoption of digital tools and services by Scotland's rural businesses could add £1.2-£2.5bn to Gross Value Added (GVA) in addition to the just over £30bn GVA which Scotland's rural economy already contributes in the UK. The report found that the South West, Eastern and South East of England regions of England, which have the largest share of rural businesses in the UK, are set to benefit the most from greater digital adoption. Scotland accounts for 9.6 per cent of all rural businesses in the UK.

Dr Jane Atterton of the Rural Policy Centre at SRUC said: "Rural Scotland is home to a significant number of businesses operating across all economic sectors. For the vast majority of these businesses, access to reliable, quick broadband is crucial for sustainability and growth. But it's not just about the infrastructure, we also need to ensure that the right kinds of support are in place to enable rural businesses to make the most of it, whether that's through easy-to-access, appropriately tailored business support, information and training, or through businesses themselves collaborating and mentoring one another. With the right kinds of support, our report suggests that there could be a substantial economic boost, not to mention the positive impact on the sustainability of communities including the most remote rural areas."

To unlock the billions of pounds additional GVA from greater digital adoption in rural areas, Rural England and SRUC outline a number of recommendations for the public and private sectors, including:

Streamlining digital support services - Setting up a single portal for information and local directories giving guidance and support that fulfils the digital needs of rural businesses

Digital Enterprise Hubs - Establishing hubs in rural towns which businesses can use or visit for better connectivity, start-up workspace, hot-desk space and training

Training and skills development - Local collaboration between employers and education providers, improving retraining opportunities and ensuring short training courses and online tools are more readily available to small business owners for life-long learning

Accelerated business adoption of digital connectivity - Encourage businesses using superfast broadband to champion its benefits to their peers locally, offering practical real-life examples of success, and prioritise investment in connectivity and digital tools.

Stronger rural targeting by existing policies and strategies - Making support for digital growth a key objective in future rural business support programmes and encourage larger technology-driven firms to implement policies focused on greater digital adoption in rural areas that shares best practice and provides practical hands-on support for smaller companies

The Cabinet Secretary for the Rural Economy, Fergus Ewing, said:

"This report reinforces the importance of fully realising our digital potential for rural Scotland.

"I am particularly interested in the growth opportunities predicted for the many micro enterprises that are found often in remote locations that are successfully supporting their local economy and in turn an inclusive rural economy for Scotland. Progress will best be delivered through partnership working with all rural businesses, public sector service providers, commercial interests and communities themselves.

"I very much welcome the interest and information in this report and look forward to seeing early progress to ensure the predictions for our Rural Economy become a successful reality."

Rural businesses see digital technology as key to growth but face skills and training barriers

Across the UK, the report finds that the rural economy contributes £299 bn in GVA to the national economy. However, if digital constraints are removed and the digital potential is realised in rural areas, an estimated £15bn or more could also be generated in additional business turnover. Microbusinesses (0-9 employees) in rural areas would see the greatest benefit, generating an additional £9.4bn in annual business turnover; followed by £4.6bn for small businesses (10-49 employees), £700m for medium-sized businesses (50-249 employees) and £200m for large businesses (over 250 employees).

Rural businesses are typically family-run, home-based, owned by people aged over 55 years old and employ fewer than ten people. Proportionately more rural than urban businesses have an annual turnover below £50,000 (20 per cent) and proportionately fewer have a turnover above £1 million (8 per cent).

Rural businesses say digital brings significant benefits now and in the future in terms of assisting remote working (30 per cent of rural businesses), improving access to customers/suppliers (29 per cent), improving business efficiency (28 per cent), improving data storage and security (25 per cent) and enabling more business flexibility (25 per cent).

Almost four-in-five rural business owners believe digital tools and services are important to their future growth potential. Cloud computing is seen as the biggest driver (67 per cent), closely followed by 5G mobile networks (54 per cent), the Internet of Things (47 per cent) and Machine Learning/Artificial Intelligence (26 per cent). Rural business owners who export say e-commerce plays a big role, with over 80 per cent using digital tools and services to trade goods and services abroad. The top export destinations for rural businesses are the EU (84 per cent) followed by the U.S. (45 per cent). In addition, 43 per cent of all rural businesses specifically sell online through their own site or via a third party site, with the top two sectors using e-commerce being retail (80 per cent) and the accommodation & food sector (71 per cent).

However beyond issues with internet reliability and speed, over half (52 per cent) of rural business owners say they face some form of skills-related obstacle to adopting digital to unlock more growth, such as recruiting people with appropriate skills to finding training for their existing workforce. Almost a third (30 per cent) have difficulty finding external or outsourced digital connectivity support, 14 per cent have difficulty accessing appropriate external digital training for the existing workforce and one-in-five (20 per cent) say their existing workforce lacks sufficient skills or they struggle to recruit people with appropriate digital skills.

CASE STUDY

Second Nature, Dumfries

Exporting Fair Trade products across Europe from her family home in rural Scotland has now become 'second nature' to small business owner Karen Riddick, thanks to digital services like the Amazon Marketplace.

Karen's always had a passion for Fair Trade and originally set up her own Fair Trade Bed & Breakfast. But one thing led to another, and before she knew it she had set up a successful online Fair Trade retail business, called Second Nature, from her home in Dumfries that's seen real success: "Eight years ago I was working at the Scottish Environment Protection Agency and had a Fair Trade B&B. I was buying all of my furnishings from a wholesaler and found I had some left over. So I started to put them up for sale online, first by dabbling on eBay, then working on my own website, and then opening on Amazon in 2011. That's when sales started to really grow, and Amazon now accounts for 50% of our sales".

Fair Trade is the unique feature of Second Nature, Karen believes: "Half of our products are now Fair Trade sourced but we're trying to switch it all to Fair Trade. It's always been my number one principal, but it's a long process to make the switch".

With growing demand for her Fair Trade products, Karen turned to Fulfilment by Amazon (FBA), outsourcing logistics so that she could free up time to focus more on aspects of the business she cares about: "We are a small family business and by outsourcing the storing, picking, packing and customer service to Amazon, this has freed up our time to seek new supplies and improve our product range. We now sell eight times more than we used to after moving to FBA. Part of this is due to increased product range, but going with FBA has definitely been the main driver of our sales increase. We're now part of Amazon's European Fulfilment network and just last month, a third of our Amazon sales were made to buyers in Europe."

She works mostly on her own at home, with help from her husband on his days off: "I had to give up my day job, because the business was going so well I needed to run it full-time. But thanks to outsourcing the bulk of the logistics, my husband was able to still continue his career in the fire service instead of having to leave his job to help with packaging orders. It's also meant we haven't needed to employ additional staff or rent additional storage, and I've been able to continue writing in my spare time."

Karen hopes other Scottish businesses, particularly in rural parts of the country, consider using e-commerce to grow their business: "What's so great about services like Amazon is that if you run an online shop it doesn't really matter where you live - all you need is some decent storage, broadband and a courier who is willing to collect parcels every day! When I first started this business I lived on Islay which is a remote island off the west coast of Scotland - it was such a revelation to know that you don't have to move location to have an online business! It means you can live in the place you love. In general I suspect that services like Amazon can actually help to solve some of the problems of rural economies."

SRUC web site www.sruc.ac.uk

PHOTO

Kenmore, on the southern shore of upper Loch Torridon.

Chris Hoskins.