Overscaig House Hotel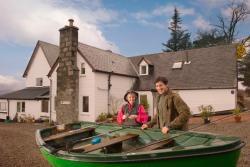 The Overscaig sits at the heart of Sutherland and our guests enjoy the peace and tranquillity of its wonderful location overlooking Loch Shin. We have 9 modern comfortable bedrooms, all of which have en-suite facilities, tea & coffee trays, telephone, TV & DVD player and most have loch views. March to October. This is a place to relax after your day in one of Europe's last great wilderness areas. Enjoy the superb locally sourced cuisine in our loch view dining room, take time to read a book in our comfortable lounge or simply have a drink in the bar. For those who are planning an active holiday, The Overscaig, is an ideal base to explore all the attractions of the Northern Highlands and to enjoy a truly wonderful area, rich in wildlife & birds, history & archaeology as well as being superb for outdoor pursuits like walking, climbing and fishing. The Overscaig offers a unique experience: peace and tranquillity with a warm Highland welcome, at the heart of the spectacular region that is the Northern Highlands.
Postal Address
Overscaig House Hotel
The Overscaig House Hotel
Loch Shin
Sutherland
IV27 4NY
Contact
Martin or Jan Fraser
News for Overscaig House Hotel
A RENOWNED North fishing hotel currently being restored to its former glory has landed a whopper of an idea to encourage guests to visit Central Sutherland. The Overscaig House Hotel between Lairg and Scourie has installed computer technology that will allow fishermen to view maps or satellite views of available trout lochs, find out how to get to them, see images and fishing records for the best spots and read all the top tips on the recommended ways to fish them.
If you contact this Business, please let them know, you found them in the Sutherland Business Index