Golspie Service Point - Highland Council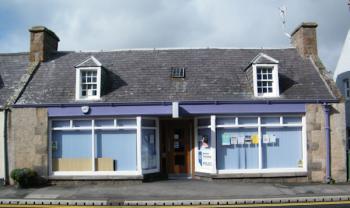 Opening Hours Monday to Friday 9am to 12.30pm What can I do at Golspie Service Point? In addition to our core services you can Access the Registration Service Access the Finance Service Access Education, Culture & Sport Access Social Work Services Contact the Pension Service (first Thursday of each month) Accessibility Level access to building Low counter for wheelchair user accessibility Loop system
Postal Address
Golspie Service Point - Highland Council
Olsen House
Main Street
Golspie
Sutherland
KW10 6RA
News for Golspie Service Point - Highland Council
On 22 January 2015 twelve S1 pupils from Golspie High School will be the first in Sutherland to become Junior Wardens as part of a joint project between the school, The Highland Council and High Life Highland. The Junior Warden Scheme aims to provide an alternative and creative way to engage with young people and community groups, promote positive behaviour and encourage active involvement in the local community.
The success of an apprentice plumber from Dornoch who won the Student of the Year 2013/2014 title for SVQ 3 Domestic Plumbing 2nd Year from Inverness College has been recognised by Highland Councillors. At the start of the recent Community Services Committee, members learned of Andrew Fraser's success and took the opportunity to congratulate him and pay tribute to the support and training given by council staff.
The Highland Council's Energy and Sustainability team have won the best innovation prize at the annual Energy North Awards which were held in Inverness last week. The Council has embarked on a project entitled Carbon Saving Capital Works for Council Buildings and Properties, with a specific emphasis on biomass, and in doing so has become an innovative leader in the renewable energy and low carbon sector.
A ceremony was held today (Monday) to mark completion of the 1km section of the A838 Lairg to Tongue road, north of Laxford Bridge. The £850k scheme realigned and widened the existing single track road to a modern two-lane standard.
Over the next few weeks new blue recycling wheelie bins are to be delivered to all households in Sutherland, along with details of the new refuse and recycling service. Households in parts of Sutherland which saw a four-weekly blue bin recycling service introduced in 2009 and so already have the bins, will be delivered new calendars and guides.
The Highland Council is to consult with the public over plans to extend the number of ways the public can pay Council bills, such as Council Tax, Non-Domestic Rates and rent. A bonus for the Council is that it can save at least £400,000 per year through changing the way it collects payments.
Offenders subject to community service orders across the whole of Scotland will be busy collecting litter and cleaning up local areas this weekend to support the Keep Scotland Beautiful Spring Clean campaign. In Highland 75 offenders who are being supervised by the Criminal Justice Service within The Highland Council's Social Work Service are scheduled to take part in the first national-wide Community Service clean up event.
A new public office has opened in Golspie, which offers a wide range of services under the one roof. Olsen House is home to The Highland Council's Service Point and Money Advice Service as well as to staff of Northern Constabulary and the East Sutherland Citizens' Advice Bureau.
A new public convenience has opened in Golspie, providing local residents and visitors alike with modern surroundings. The Highland Council has invested £286,000 in the facility on the Main Street that includes male, female, disabled toilet units and an attendant's store.
Councillor Bill Fernie, Chairman of Education Culture and Sport Committee will officially re-open Sutherland Swimming Pool in Golspie on Saturday 7th June after a £1.2 million refurbishment by The Highland Council's Education, Culture and Sport Service. The new facility now provides a first class environment for swimming, health and fitness which is fully accessible to all.
If you contact this Business, please let them know, you found them in the Sutherland Business Index